Cover Photo Credit: KassyMae Photography
2021-2022 Gallup Intertribal Ceremonial Queen
Amber Ballenger (Diné)
Booking Information:
Intertribal Ceremonial Office
Phone: 505.905.1640
Email: ico@state.nm.us
Schedule (click here)
Social Media | Follow and Like at
Facebook:  IntertribalCermonialQueenAmber 
Instagram: CeremonialQueenAmber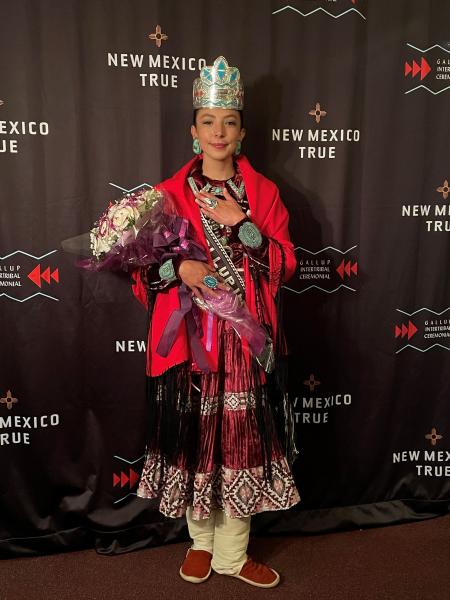 Ya'at'eeh, I am Amber Ballenger. I am Dine', my clans are Holtsooi doo Bit'aani, my family is from the Red Rock Chapter and I was born & raised in Gallup, NM! I am an alumna of both Rehoboth Christian School and the University of New Mexico where I received my Bachelor of Science in Family & Child Studies, with a minor in Psychology. Currently I am pursuing a career in Outdoor Education, gaining experience in Gallup, NM, San Francisco, CA, and now Denver, CO. I enjoy living a healthy lifestyle and staying active through rock climbing, yoga, dance, hiking, and backpacking. On August 21, 2021, I was honored to be crowned the 2021-2022 Gallup Intertribal Ceremonial Queen and am very excited to be an ambassador for "The Ceremonial" as it approaches the Centennial Celebration!
Growing up, like many others, I always looked forward to "The Ceremonial" every year. "The Ceremonial" is a family tradition especially because my Mother and Sister were both past Ceremonial Queens (1980 and 2006).  As a young girl I was inspired by all the Ceremonial Queens, the pride they took in both their culture and as a representative. On August 19- 21, 2021, I, along with 5 other strong Dine' woman participated in the Ceremonial Queen Pageant. Through this fun and empowering experience there was definitely a sisterhood that was created between all of us and I'd like to acknowledge all of their hard work, cultural knowledge and accomplishments. We kept in touch with each other and one of the messages that was shared the night of the crowning captured what we all felt "we came in as strangers, but we left as sisters".  I am humbled to be a part of this special group of young strong native women. 
The primary platform of Ceremonial Queen is to strive to elevate awareness of "The Ceremonial" event's purpose and invite people to attend this captivating culturally focused event.  While serving as Ceremonial Queen I look forward to shining the spotlight on the City of Gallup and "The Ceremonial", statewide and beyond, to build up people's excitement about the event and what Native American & Indigenous Peoples proudly share through their culture and heritage.  Additionally, my personal platform will be focused on encouraging our younger generations to reconnect with Mother Earth and nature. I want to boost our youth's interest in getting outside and being active, especially after a year filled with screen time. I will also advocate for health and nutrition because our bodies are what allows us to experience this life we have been blessed with. As an ambassador for Native American and Indigenous peoples my hope is to share teachings and stories that reconnect us all to the land. We are Mother Earth's caretakers and it is our duty to be the leaders in reharmonizing the relationship with her.
I am looking forward to meeting as many of you as possible, virtually or at live events, and I encourage everyone to take a step back from the screens as often as possible and step out into nature. Take a deep breath of fresh air and find one thing outside that brings joy. Take care of yourself, your mind, your body, and most importantly your spirit. Soaking up the sunshine and basking in the trees is one of the best ways to do so! Last but not least, special thank you to all who have supported and encouraged me, Ceremonial Queen Pageant Committee members, Pageant Sponsors & Volunteers, the City of Gallup, and the Intertribal Ceremonial Office. Looking forward to seeing all next August at the 100th Gallup Intertribal Ceremonial event in Gallup, New Mexico USA!